Airtasker Rebrand
Rebranding one of Australia's most beloved brands
After partnering with Koto on a new brand direction, it fell to the design team to lead the translation and implementation of the new brand to the entire product. My role was to project manage the rebrand from a design perspective and execute on designs across web, Android, and iOS.
Out with the old, in with the new
Airtasker's visual language had become stale, and the toolset designers were left with, became limiting. We partnered with Koto to help us develop a new brand and visual strategy. It was a collaborative effort including various different parts of the company and the design team spent time ensuring we'd walk away with a true reflection of the Airtasker brand and something we could extend on for years to come.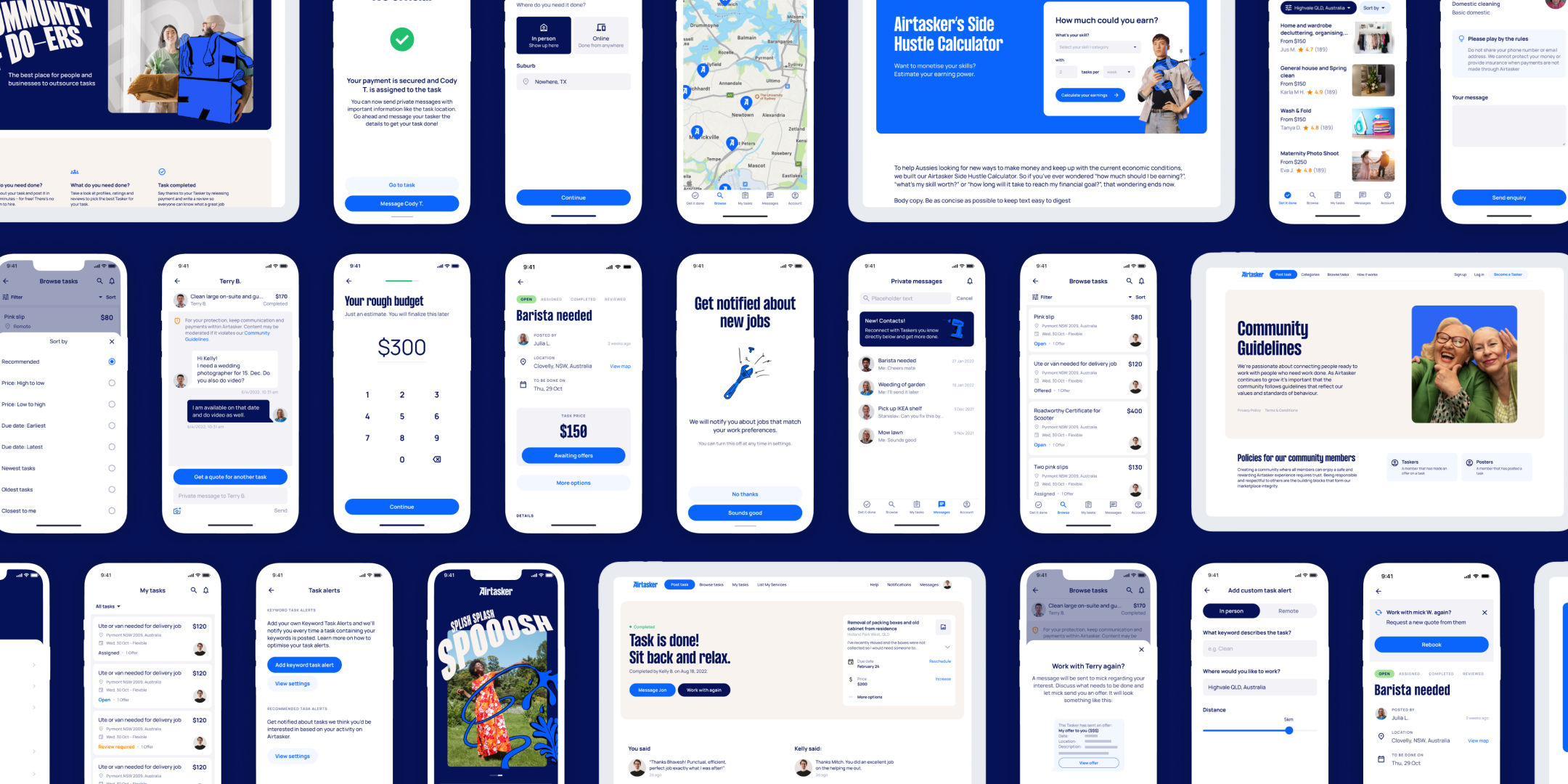 Getting into it
Once the direction was set, my main role evolved into two parts. A) help organize and project manage the implementation of the rebrand, and B) directly help rebrand large parts of the product across platforms.
The first part was to partner with engineering to come up with a plan that would allow for engineering to implement the brand within 6 weeks. This meant we had around two months to get everything in order for engineering to go execute.
While Koto helped us with the direction, the next step was to explore what the right expression we should use in the product. As an example, some of the more expressive parts of the brand makes sense in an advertising campaign, but less so in the mobile app. I helped structure the work, so that we as a design team, could land on how the brand translated to emails, landing pages and the product itself.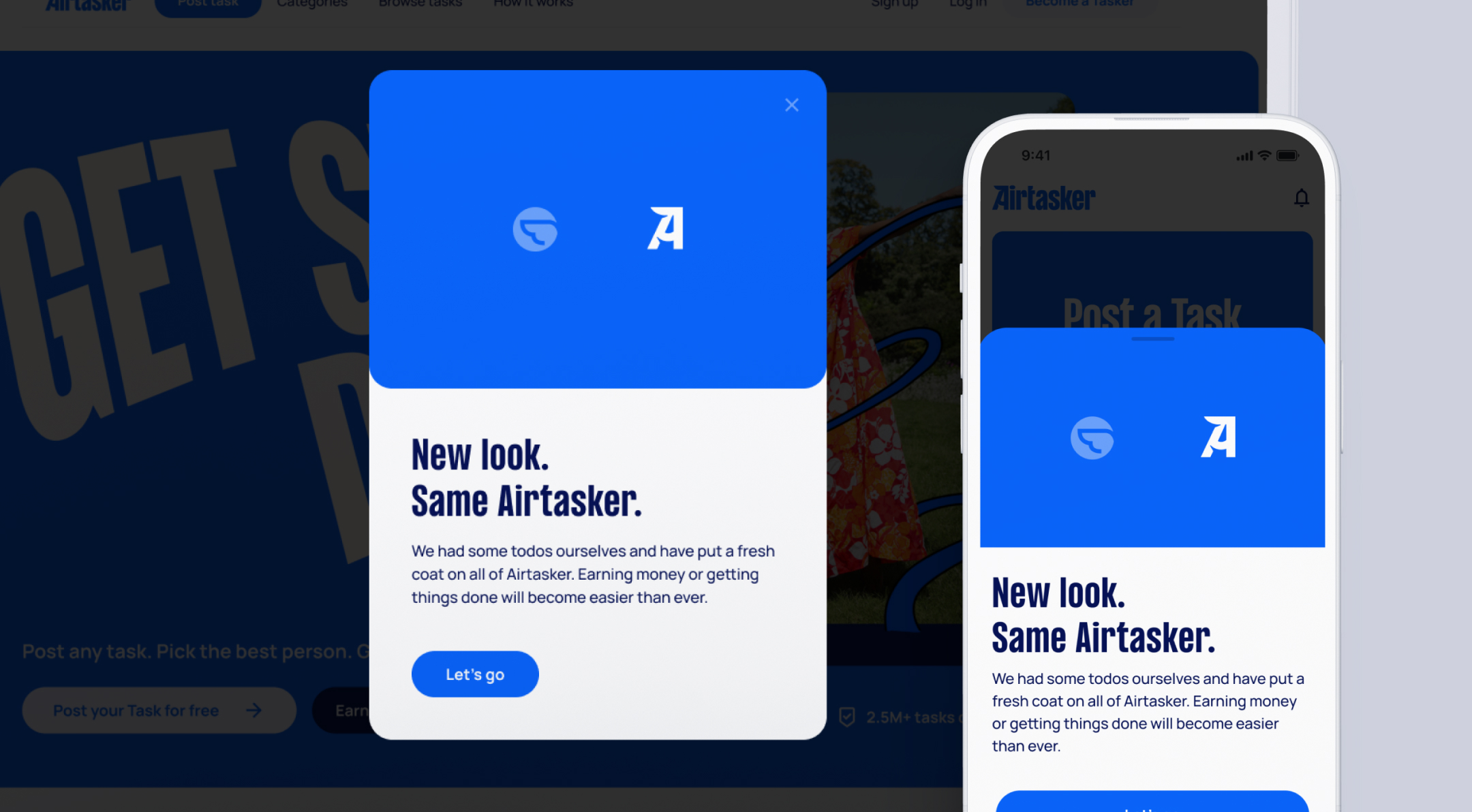 Challenge after challenge
We ambitiously decided to rework our design system at the same time as upgrading its visuals. This included auditing the current design system, understanding all cross-platform inconsistencies and limitation, and come up with a plan for where we wanted to end up.
The biggest challenge during the rebrand was to ensure that we could meet our deadlines. Knowing engineering had six weeks to implement, I needed to understand the engineering side of our product and design system to have productive conversations with developers when it came to scoping the work.
Additionally, a big redesign like this also comes with significant risk to business metrics if not handled carefully, so handling the expectation of users became a key priority.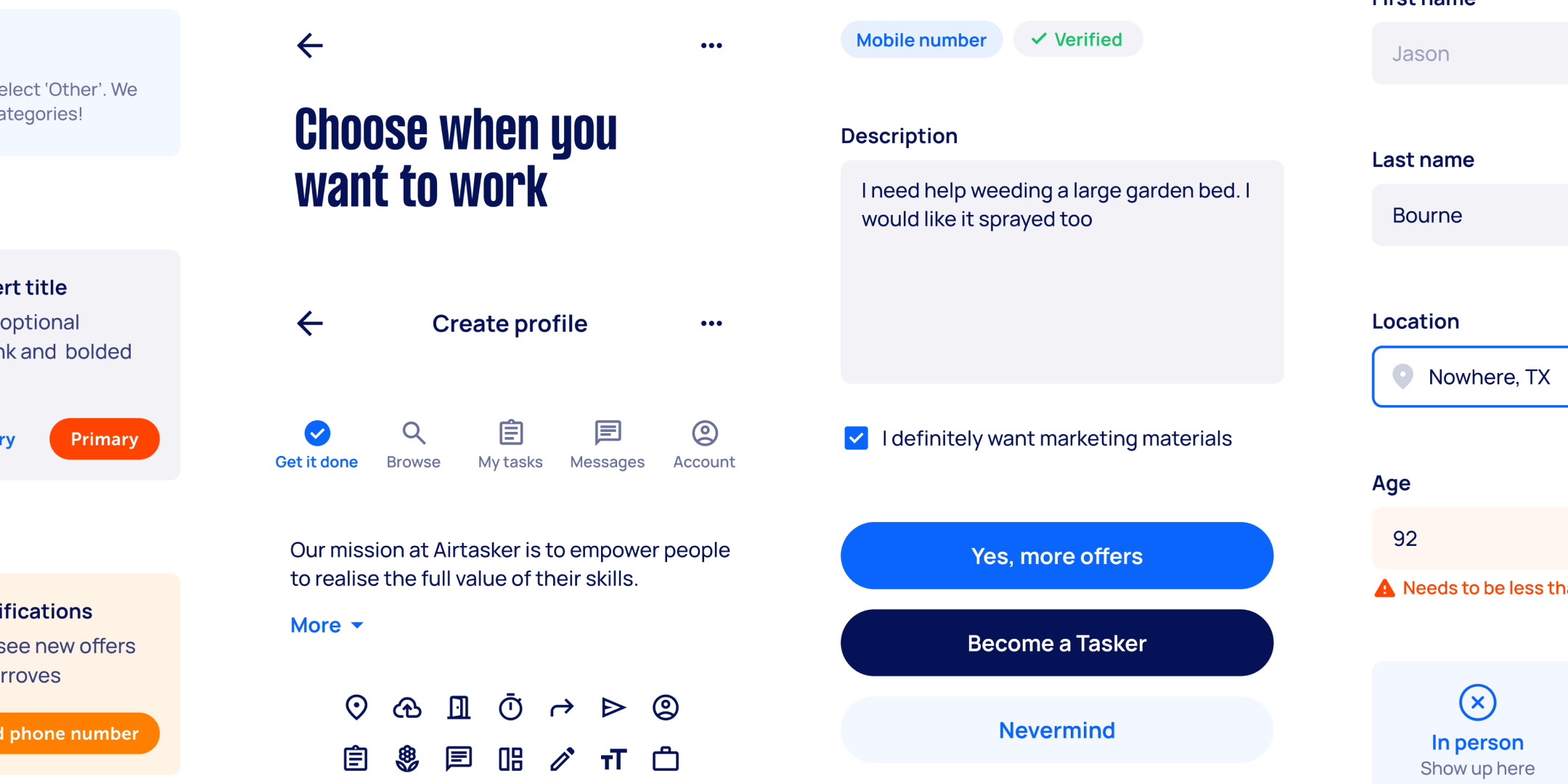 Launching the all new Airtasker
Rebranding Airtasker was by far my biggest and most challenging project I've ever worked on. Being responsible for planning all the design work, helping scope with engineering, ensuring good implementation, and finally executing on designs on three platforms was a huge effort.
In the end, we ended up:
hitting every deadline and launching on time

redoing our entire design system including over 50 components as well as developing a new set of landing page components and email components

redesign over 100 screens across all platforms

redesign over 20 landing pages

create internal and external hype videos

update internal slide presentations, tooling, and various other bits